Vaarn Atlas
Vaarn! I curse each letter of the name.

I curse the blue sand that infiltrates every pore of my body, the creeping sand, which each night swallows a little more of the final camp we have erected upon the face of this pitiless azure desolation.
- Idris Ida-Null,
Hegemony Cartographer
What Is This?
This Atlas is an in-game artifact, toy, generator, and tool for the science-fantasy tabletop roleplay game Vaults Of Vaarn (https://vaultsofvaarn.com/). This Atlas uses tables and tools from the Vaults Of Vaarn zines and streamlines their use. My intention is for this to serve as a useful tool in your campaigns, while also being fun to play with. Using the link sharing feature you will be able to share the same map with other people in your game.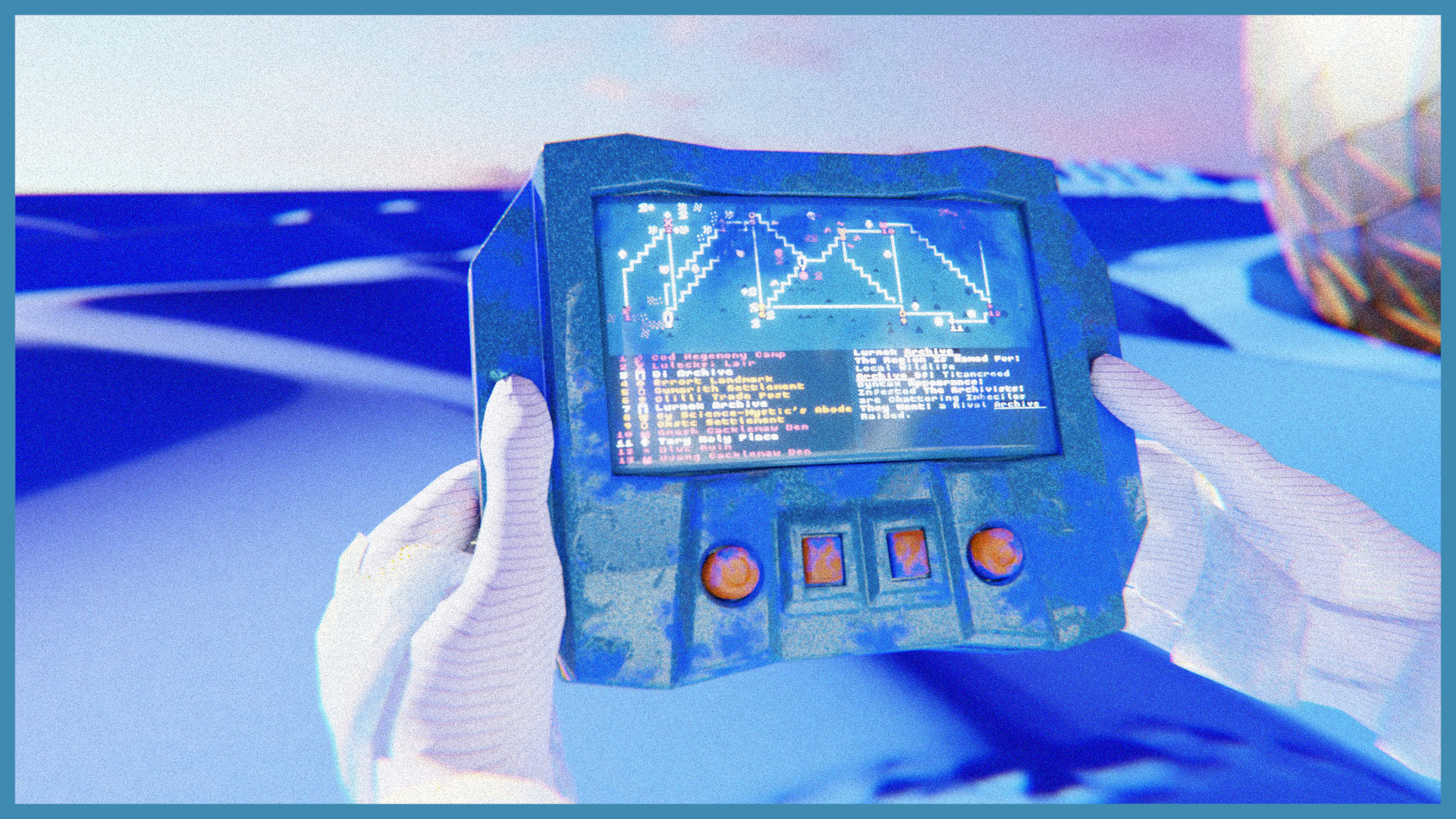 Instructions
Move the cursor with your mouse or keyboard, and interact by clicking or using the space bar.
Press R or click on the top right button to reload map.
Press C or click on the bottom right button to copy the link to clipboard. Sharing this link will let you share the same map with others.
If you click on a location you can freely move the cursor around without changing the textbox. Click again to unlock the cursor. Locking the cursor allows you to click on the dark underlined links in the description box. You can also double click a location to open the first links. Most links provide further useful information about Vaarn from the SRD (System Reference Document).
Make sure to try it in fullscreen so it is easier to read.
Planned features
Windows, Mac, and Linux builds
Github page (feel free to use the code or tools from this generator. The text content and font has licensing requirements that are specified below)
Mobile support (this is a maybe)
As more locations are detailed in Vaults Of Vaarn zines I will work on adding generators
Easter Eggs
Find Waldo/Wally (hint: search in the sand)
Meet KRONOS (hint: mess with the timeline)
Find a shrine to Venkarthim, The Doom of Ants (hint: search the streets of Gnomon)
Terminate a Titan-Era Virus (hint: find a secret panel)
Credits
Most of all thanks to Leo Hunt for creating the excellent Vaults Of Vaarn system and setting!
Vaults Of Vaarn (https://graculusdroog.itch.io/vaults-of-vaarn) is published under a Creative Commons Attribution-Share Alike 4.0 license. The content of this Atlas is published under the same license. Feel free to use the content created from this Atlas as long as credit is attributed.
Created in Unity

The primary font is a slightly modified version of FROGBLOCK by Polyducks (https://polyducks.itch.io/frogblock)
The font for readability is a modified version of Hack (https://github.com/source-foundry/Hack) which is published using an MIT license.
Sound effects made with SFXR (https://www.drpetter.se/project_sfxr.html)
Music is made with 1BitDragon (https://1bitdragon.itch.io/1bitdragon)
Thanks to GulluthGulch (https://gulluthgulch.itch.io/) for the excellent color palette.
Finally thanks to everyone on the Vaults Of Vaarn discord for giving me so much feedback, encouragement, and help!

Vaarn Atlas is published under a Creative Commons Attribution-Share Alike 4.0 license. Feel free to use any maps created using the generator as long as you give credit.

Source code: https://github.com/vaarn/VaarnAtlas
Comments
Log in with itch.io to leave a comment.
by the way, is there a GitHub page yet?
Soon. I really need to do that. I'll add a comment here letting you know when I finally get that set up!
this is so inspiring! Thank you!
whoa, this is cool as hell
What an amazing resource! I'm truly floored by the level of love and care that went into this, and it makes me so much more excited to run VoV.
This is the single most exciting thing for TTRPGS that I've seen in a very long time. It makes me want to learn Unity. It makes me have so many ideas. BEAUTIFUL.
Thank you Batts! This means a lot to me, especially coming from you. The Sun King's Palace is a brilliant digital tool/adventure that really inspired me!
Incredible work Jacob, really interested to see it develop.